Starts right here with this WASHBURN body.
Gona try out some different things on this guitar.
I bought this body with a few things in mind.
Should be interesting.
Be back with (before) pic.
DACE>

DACE

Admin




Posts

: 1759


Join date

: 2009-06-25




DACE

Admin




Posts

: 1759


Join date

: 2009-06-25



DACE......here's a link for you to check out.
This guy does superb custom paint jobs and the best thing is that if you click a guitar pic it will open a page full of photos showing each stage of the job from start to finish.
I know that you have some arty people in your family and friends so maybe this can give you some ideas.
I think Steve would love these also

http://www.jimfogarty.co.uk/Custom%20Painted%20Guitars.html
This guy lives on Orkney which is way up North....its a small island off the coast of Scotland...harsh and cold but beautiful if you like nature.
WILD SITE...

I think you guys will be suprised how i do this guitar.
Have this same idea for another body im getting.
So i can get it down by having 2 to do.
So this is #1 of 2.
Its a concept-guitar-build.
DACE>

DACE

Admin




Posts

: 1759


Join date

: 2009-06-25



This should be DONE in 10 days.
I will post the parts-pixs im going to use soon.
This is a STRATELE Style concept guitar.
TELE Bridge. (GOLD)
STRAT pickgaurd cut to fit the TELE bridge outline. (BLACK)
HUM-Bridge, Single coil neck pup. (duel-rail-type) (CREAM or WHITE)
TELE Neck-Maple fretboard.
GOLD Keys.
(STRATELE) By FUNGUS GUITAR CONCEPTS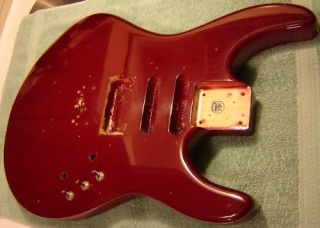 DACE

Admin




Posts

: 1759


Join date

: 2009-06-25




DACE

Admin




Posts

: 1759


Join date

: 2009-06-25




DACE

Admin




Posts

: 1759


Join date

: 2009-06-25





Wow! That is going to be super cool!
I like the idea of a Tele bridge on a Strat body.


Z


Similar topics
---
Permissions in this forum:
You
cannot
reply to topics in this forum