DACE

Admin




Posts

: 1759


Join date

: 2009-06-25



JEM/UV - Steve Vai
Steve Vai is one of the few guitarists universally acknowledged as one who has changed the way musicians think about what a guitar can really do. His signature Ibanez guitars are no different: Iconic, Sublime, Awe-Inspiring, Outrageous. The Ibanez JEM Series models are trailblazers in a world of imitators – there's nothing like them.
MODEL: JEM77
FINISH: FLORAL PATTERN 2 COMPARE THIS MODEL
BUY NOW
X Close Add model to compare:
Updating...
Select a model to begin.
CLICK TO ENLARGE
SPECS
Neck Material: 5pc Maple/ Walnut
Neck Type: JEM Prestige
Body: Basswood body
Frets: 6105 frets
Fingerboard: Rosewood
Inlay: Floral Pattern Vine inlay
Bridge: Edge bridge
NeckPU: DiMarzio® Evolution® DP158
MiddlePU: DiMarzio® Evolution® DPS1
BridgePU: DiMarzio® Evo2™
HW Color: CH
Finishes: FP2
FEATURES CLICK TO ENLARGE
JEM77's Edge bridge and Lion's Claw cavity for stable tuning and rad trem effects.
Iconic floral pattern throughout JEM77's basswood body.
JEM77FP2 includes Steve's "Monkey Grip" handle cut on the body.
Close-up of Floral Pattern Vine fretboard inlay.
JEM77FP features DiMarzio® Evolution® humbucker in the neck position, DiMarzio® Evolution® single coil in the middle position and DiMarzio® Evo 2™ in the bridge position. This pu conbination features wide sound varieties for modern rock.
EDGE TREMOLO
Acclaimed Edge tremolo features knife-edge-like pivot surfaces for virtually friction free operation. Locking studs contribute to tuning stability
FEATURES CLICK TO ENLARGE
The low-profile design of the Edge tremolo includes fine tuners conveniently angled back to prevent right hand touches.
The Edge bridge features a stud lock in both studs for maximum tuning stability.
JEM/UV - STEVE VAI SERIES BASICS
•Proudly made in Japan since their debut in 1987
•Contoured body with 24-fret JEM Prestige neck provides easy access to all registers
•Vai's choice of specific DiMarzio pickups for each model combined with Ibanez Split-5 wiring provide incredible tonal versatility
•Lion's Claw tremolo cavity allows pitches to be radically raised or lowered
•Steve Vai's Japanese-made U777 Universe – the iconic solid-body seven-string – allows easy transition from 6- to 7-string techniques
NECK DIMENSIONS
Scale/Length 648mm/25.5"
a: Width at Nut 43mm
b: Width Last Fret 56mm
c: Thickness 1st Fret 19mm
d: Thickness 12th Fret 21mm
Radius 430
PICKUPS
Bridge Pickup
Name: DiMarzio® Evo2™
Model No: DP215
Construction: Humbucking
Magnet: Ceramic
Description: Tight, aggressive and louder. Wide range of overtones.
Middle Pickup
Name: DiMarzio® Evolution®
Model No: DPS1
Construction: Single Coil
Magnet: Ceramic
Description: Bright, clean tone.
Neck Pickup
Name: DiMarzio® Evolution®
Model No: DP158
Construction: Humbucking
Magnet: Ceramic
Description: Calibrated to DP159, fat punchy and loud. Designed for Steve Vai.
SWITCHING SYSTEM
click here
JEM Design Contest Winner Announced!
More»
click here
Steve Vai Introduces the Newest Jem!
More»

DACE

Admin




Posts

: 1759


Join date

: 2009-06-25



TSA
Guitarists normally have to depend on a separate effect pedal to get the distinctive, warm overdrive sounds of a tube amp. No more! The new TSA15H Tube Amp has a genuine Tube Screamer circuit, built right into the front end, for all the warm tube overdrive punch and crunch you'll need. Includes foot-switchable function, with Tube Screamer Overdrive, Tone, and Level controls. TSA112C speaker cabinet and IFS2G footswitch sold separately.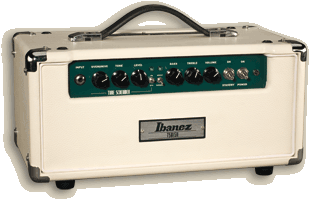 DACE

Admin




Posts

: 1759


Join date

: 2009-06-25




---
Permissions in this forum:
You
cannot
reply to topics in this forum