I love the guitar Mags, read them , and sell them also.
heres there Web-Link.
http://www.guitarworld.com/
Link to VID- and this page.
http://www.guitarworld.com/article/way_huge_aqua_puss_mkii_analog_delay_pedal
Sep 29, 2010
Way Huge Aqua Puss MkII Analog Delay Pedal
By Chris Gill
Way Huge Aqua Puss MkII Analog Delay Pedal
LIST PRICE: $254.61
MANUFACTURER: Way Huge Electronics, jimdunlop.com
PRO Fat, rich analog delay tones; low noise; battery operated
CON Short maximum delay time
Guitar World Platinum Award for Quality & DesignOriginally published in Guitar World, August 2010
If you lust for the most lush and luscious analog delay tones known to man, the Aqua Puss will make you feel all wet, warm and wonderful.
The Aqua Puss analog delay pedal was one of the most popular products manufactured by Way Huge Electronics during the company's first incarnation, from 1992 to 1999. When founder Jeorge Tripps ceased production of Way Huge products during the new millennium, prices for original Aqua Puss pedals soared into the stratosphere. Recently, Jim Dunlop hired Tripps and resurrected the Way Huge line, and guitarists bombarded the company with requests for the Aqua Puss. Tripps initially hesitated to bring back the Aqua Puss because he felt he improved upon its design with the MXR Carbon Copy analog delay, but late last year he relented and announced the Aqua Puss MkII.
FEATURES
Unlike other second-generation Way Huge pedals, which add features to the original designs or are entirely new products, the Aqua Puss MkII reproduces the features, performance and tone of the original pedal. Controls include a delay knob that lets you dial in delay times from 20 to 300 milliseconds, a feedback control with a range from a single repeat to infinite repeats that swell into dub-approved self-oscillating lunacy, and a blend knob that provides everything from subtle background delay to repeats that match the level of the input signal. About the only difference between the MkII unit and the original is a conveniently located battery hatch that allows you to change the pedal's single nine-volt battery without a screwdriver.
PERFORMANCE
Although the 300ms maximum delay time is relatively short by modern standards (just barely enough to produce Edge-style dotted eighth delays at a fast tempo), players love the Aqua Puss because its delayed tones are extremely fat, rich, creamy and seductive. This is true analog delay tone, where each subsequent repeat loses high frequencies as it becomes more distorted and degraded, resulting in natural-sounding echo effects. The Aqua Puss MkII produces none of the white noise that makes vintage analog pedals difficult to use in the studio and is almost as quiet as a digital delay pedal. If you love unconventional effects, crank the feedback and blend knobs all the way up until the signal screams then tweak the Delay knob to make your guitar sound like a chainsaw or NASCAR racer.
THE BOTTOM LINE
If you lust for the most lush and luscious analog delay tones known to man (and can live with the short 300ms maximum delay time), the Aqua Puss will make you feel all wet, warm and wonderful.
>>>>>>>>>>>>>>>>>>>>>>>>>>>>>>>>>>>>>>>>>>>>>>>>>>>>>>>>
Gear Spotlight: Vox Series 33 Guitars
http://www.guitarworld.com/article/gear_spotlight_vox_series_33_guitars
>>>>>>>>>>>>>>>>>>>>>>>>>>>>>>>>>>>>>>>>>>>>>>>>>>>>>>>>

DACE

Admin




Posts

: 1759


Join date

: 2009-06-25



Sep 30, 2010
Gov't Mule Announce Fall Tour
Gov't Mule's Warren HayesJust weeks after wrapping up their 30-city By A Thread summer tour, Gov't
Mule will kick off a run of dates that will bring them through the rest of 2010. The dates include two shows with Widespread Panic on Oct 23 and 24 and Halloween in Oakland, CA on Oct 30. Mule's Halloween shows are extra-special: in recent years the band has performed full sets of Led Zeppelin ("Holy Haunted House"), Pink Floyd and Rolling Stones songs and with welcomed special guests.
For the ninth year in a row, Gov't Mule will celebrate New Years Eve in New York City. The special shows are scheduled for Dec 30 and 31 at the Beacon Theater, a venue the band has performed at over 20 times. Continuing the tradition, the Dec 31 show will boast three sets and surprises.
Gov't Mule Tour Dates
10.01 - University Of Iowa - Iowa City, IA
10.23 - The Joint @ The Hard Rock - Las Vegas, NV (w/ Widespread Panic)
10.24 - Open Sky Amphitheatre - Valley Center, CA (San Diego) (w/Widespread
Panic)
10.27 - Showbox SoDo - Seattle, WA
10.28 - Crystal Ballroom - Portland, OR
10.29 - Knitting Factory - Reno, NV
10.30 - Fox Theatre - Oakland, CA
11.02 - House of Blues - Anaheim, CA
11.03 - Marquee Theatre - Tempe, AZ
11.04 - Rialto Theatre - Tuscon, AZ
11.05 - The Music Box - Los Angeles, CA
12.30 - The Beacon Theatre - New York, NY
12.31 - The Beacon Theatre - New York, NY
>>>>>>>>>>>>>>>>>>>>>>>>>>>>>>>>>>>>>>>>>>>>>>>>>>>>>>>>>>>>
GIRLS!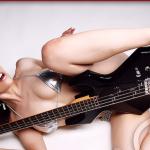 DACE

Admin




Posts

: 1759


Join date

: 2009-06-25




---
Permissions in this forum:
You
cannot
reply to topics in this forum